Posted by Gregory J Block MSc PhD on May 14, 2015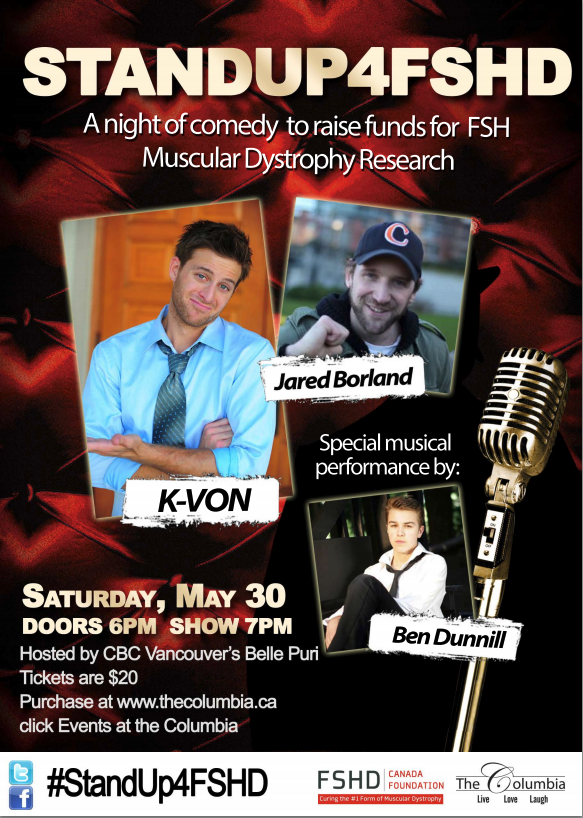 From the event organizer: Asifa Lalji:
Thanks for all your support last year for my first fundraiser for FSH Muscular Dystrophy - #standup4fshd
With your generous contributions, we raised over $8,000 that night. And, we raised lots of awareness through the media and online.
I hope I can count on you again to help me reach my goal of $10,000 this year.
We
have a fantastic line up starting with a special music performance by a young soon-to-be super star Ben Dunnill. (This teen from White Rock is said to be the next Michael Buble)
And, spectacular comedy with Jared Borland and from MTV's Disaster Date, K-Von. I am also thrilled to have my friend and CBC Vancouver reporter Belle Puri host the night!
For those who can attend, it will be a great night full of laughter with new and old friends.
For those who can't attend the event,I am hoping you will consider buying tickets that I can resell or give away through contesting to raise more money and awareness.
The money raised last year went to some promising collaborations between FSHD Foundation Canada and Friends of FSH in Seattle.
Each step brings us closer to a cure. I'm still very hopeful our talented researchers will find a treatment soon.
You can buy tickets here https://www.eventbrite.ca/e/standup-4-fshd-fundrasier-tickets-16756648587 with your credit card. One ticket is only $20 (around $23 after tax). Even if you can buy one ticket, it would be a big help.
Be sure to put my email address (a_lalji at hotmail.com) in the field where it asks "Where do you want your tickets sent" this way I can print them and re-purpose them.
If you want to donate $100 or more, you may want to donate online at www.fshd.ca so you can get a tax receipt. Just be sure to add "#standup4fshd" in the comments section.
Thanks very much in advance... your support makes all the difference!