Posted by Bonnie DeCaro-Monahan on May 1, 2017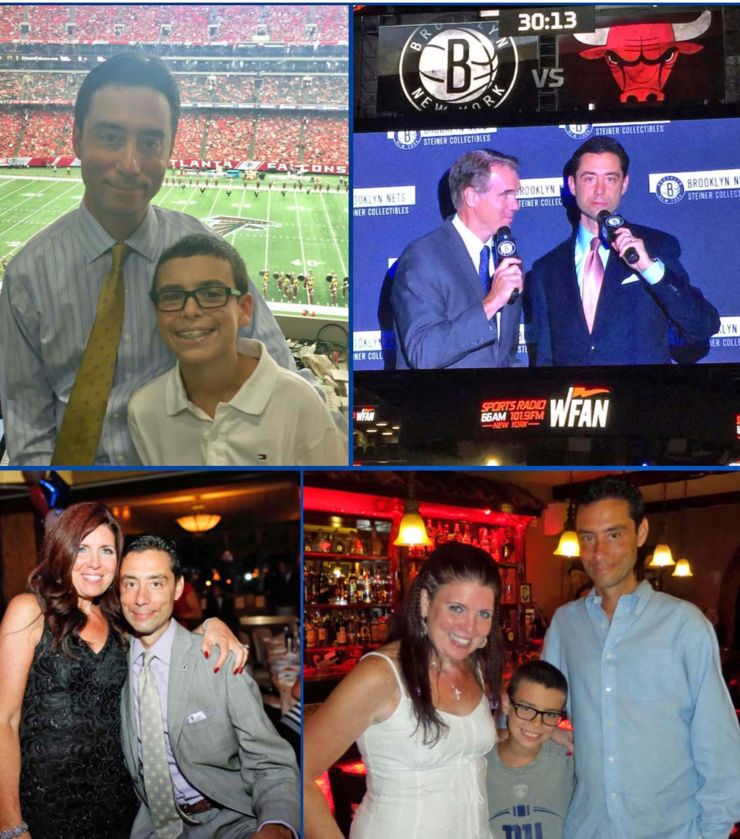 Champion Spotlight – Spring 2017
Chris Carrino
Driven by a desire to improve the lives of those suffering from FSHD and to give them a hope for the future, Chris pushes past his time and physical constraints to run a foundation while simultaneously continuing in his role as NBA radio announcer for the Brooklyn Nets. Once an avid sportsman, he noticed a drop in his ability to compete athletically during his college days. He was diagnosed with FSHD in the late 1980's and now finds it affecting not only his shoulders and upper limbs, but his ability to navigate stairs as well.
As a father, Chris is concerned about his son's future and is intent on allowing him to experience his childhood without the weight or label of a potential FSHD diagnosis. Despite the 50% chance that his son may have the disease, he doesn't see any benefit to testing his son now, especially until there is a treatment or cure discovered. Spurred by his love for his son, and a desire for a different future for all who suffer from FSHD, Chris decided to do something about it (much like the story of Rick and Terry Colella).
In 2011, Chris and his wife, Laura, established the Carrino Foundation for FSHD, with a similar goal to Friends of FSH Research, encouraging, promoting, and funding scientific and clinical research of FSHD. In taking action, Chris hopes to be an example for anyone going through this experience to find a way to live their dreams.
Among the many methods Chris has found to raise funds for research, Chris is now partnering with Friends of FSH Research on a Coast 2 Coast 4 FSHD Bicycle Tour. This epic cross-country bicycling journey will start at the Space Needle in Seattle on May 27th and end at the Brooklyn Bridge on July 19th. The hope is to connect with the FSHD community along the route and show them that people care. While Chris is not able to ride with these brave cyclists, he will be joining them at several of their city stops throughout the journey, starting with two kick-off events in Seattle. We encourage you to come meet Chris and his cycling team at either our Pre-Ride Meet & Greet on May 26th or the Kick-Off Celebration on May 27th.
Chris, you truly are a champion for FSHD research and we are honored to be partnering with you to maximize everyone's efforts for this very important cause! Thank you for every sacrifice you make on behalf of each person who suffers from FSHD and those who love them. Together, we are making a difference!