Posted by George Shaw on Feb 8, 2017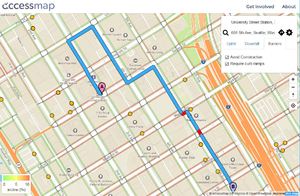 See also: UW Today article.
A tool under development at the UW to provide routing information for someone with limited mobility. The initial version is based on City of Seattle's map data, which contains some errors, and lacks data on paths that are not designated sidewalks by the Seattle DOT (for instance, paths going through the Seattle Center). Nick Bolton, the project's technical lead, is planning use OpenStreetMap in the future, which does include more detailed data. This will also allow the project to be expanded to additional cities. Try it out and provide feedback.