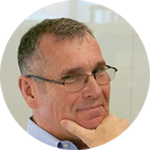 Senior Scientific Advisor
Dyne Therapeutics
Bruce has devoted much of his professional life to developing therapies for rare genetic diseases, particularly myopathies. Previously, he was vice president and head of research for Sarepta Therapeutics, leading a team whose work contributed to the FDA approval of Exondys 51, a treatment for Duchenne muscular dystrophy (DMD). Prior to Sarepta, Bruce spent 21 years as a senior research director in the rare disease group at Genzyme (later Sanofi), with a focus on myopathies including DM1,FSHD, DMD and Pompe disease. Bruce currently serves as an independent consultant guiding Dyne and other companies in the preclinical development of therapeutics for rare diseases, as well as in the design of portfolio-based research organizations.
Bruce received his Ph.D. from the University of Massachusetts Medical School and also studied at Harvard Medical School and Boston University Medical School, where he was a fellow of the American Heart Association.
Chairman, The Science Offsite Conference, 2014
Genzyme-Sanofi Hub R&D annual conference.
Co-Leader of the 2013 Genzyme Science Offsite conference.
Group Leader, Muscle Research. Investigating various therapeutic interventions for muscle genetic diseases.
Co-founder and research leader for Medtronic-Genzyme Biotechnology, a joint venture investigating uses of cell therapy for cardiovascular disease.
Science Portfolio Leader, Cardiovascular Disease. Investigated various cell, gene, and protein therapeutic approaches for cardiovascular disease.
Keratinocyte Research Group Leader. Investigated novel concepts for keratinocyte grafting for severe burns as well as process improvements for autograft delivery.
Specialties:
Antisense oligonucleotides and their uses in vivo
Therapeutic development for skeletal muscle diseases
Cell based therapies for cardiovascular disease
Skin and cartilage repair-regeneration
Paella Valencian
See also: https://www.dyne-tx.com