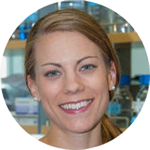 Postdoctoral Fellow
Fred Hutchinson Cancer Research Center
Danielle Hamm grew up on a dairy farm in rural Wisconsin. She received a Bachelor of Science degree from the University of Wisconsin-Stevens Point in 2011. Following graduation, she volunteered with the national service program AmeriCorps before attending graduate school at the University of Wisconsin-Madison. Dr. Hamm carried out her doctoral thesis research in Dr. Melissa Harrison's laboratory, where she investigated the molecular mechanisms that drive early embryonic development. Completing her PhD in Biochemistry in 2018, she recently joined Dr. Stephen Tapscott's lab as a postdoctoral research fellow at the Fred Hutchinson Cancer Research Center.
Dr. Hamm is interested in the critical role transcription factors play in governing gene expression and how, when mis-expressed, they can disrupt the cellular program and cause disease. In healthy individuals, the disease-causing gene of facioscapulohumeral muscular dystrophy (FSHD)—DUX4—is only expressed in the early embryo and testis. However, in individuals with FSHD, DUX4 is active in skeletal muscle where it triggers a toxic cellular response. Dr. Hamm became interested in this dichotomy, asking why the transcription factor DUX4 is toxic when present in muscle, but not toxic when normally expressed during early development.
Dr. Hamm is investigating how the FSHD disease-causing gene, DUX4, elicits genome-wide changes to the DNA landscape. DUX4 activates hundreds of genes, including histone modifying enzymes that may alter how the DNA is packaged in such a way that allows silenced genes to become accessible and expressed in FSHD. Dr. Hamm is using genome sequencing technologies to identify how histone modifying enzymes function downstream of DUX4. Understanding these mechanisms may provide new strategies for effective FSHD therapeutics.
See also: https://research.fhcrc.org/tapscott/en/lab-members.html