Posted by George Shaw on Jun 17, 2016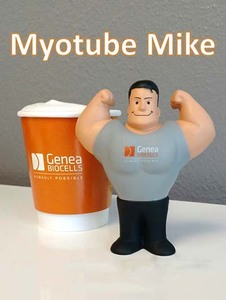 Genea Biocells is introducing Myotube Mike, a crusader for awareness of neuromuscular diseases. They will be at ISSCR from June 22-25, exhibiting in booth 1437, handing out Myotube Mike figurines. For 2016 Genea Biocells is donating to Friends of FSH Research for every picture of Myotube Mike tagged as #MyotubeMike4FSHD on Facebook, Twitter or Instagram.
I am generally not one to promote companies willy-nilly, and this seemed like a fun way to spread the word about one of the most common forms of muscular dystrophy. And I like their tagline, "Humanly Possible," reminding me that there are real humans there working hard every day to help find a cure.
See also the company's blog on LinkedIn for more MyotubeMike adventures, and a 2015 grant to Genea Biocells to help validate a new stem cell system.