Posted by Friends of FSH Research on Mar 26, 2020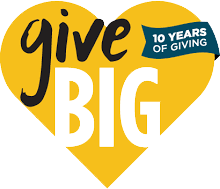 Friends of FSH Research is suggesting you donate to other non-profits for GiveBIG this year.
GiveBIG is coming on May 6th, but you don't need to wait!
Please give NOW and on May 6th to support Seattle non-profits
which help those greatly impacted by COVID-19.
Friends of FSH Research has decided not to ask for your donations during this year's GiveBIG campaign. We believe the immediate needs of our Puget Sound community take priority. For guidance as to some non-profits that are helping fill the needs of our neighbors, businesses, and health care system affected by COVID-19 please visit allinSeattle.org.
Our organization was blessed to have held our gala before the COVID-19 pandemic forced many to cancel their events. We had the luck and good fortune to hold our 16th fundraising auction in January before these cancellations occurred, and you blew us away with your enthusiasm and energetic giving! We now are well on our way to putting those funds to work. We are soliciting new project proposals and reviewing them carefully to make sure they are worthy of your donated dollars. You can visit our grants page if you'd like learn about the projects we are funding.
Again, we want to express our sincere gratitude for your support. With your amazing generosity over the past 16 years, we have been able to make a positive impact in the field of FSHD research. We went from not understanding the root cause of this disease to now exploring potential therapies and enrolling patients in clinical research trials. None of this progress would have occurred without your help.
We will keep working throughout the year to push onward with our mission to find a treatment or cure for FSHD muscular dystrophy.
Mark your calendars for our 17th Annual Gala on February 27, 2021 at the Lake Washington Hyatt.
We wish you and your loved ones good health now and we look forward to partying with you in 2021.