Posted by George Shaw on Jun 1, 2018
Genea Biocells announced in a Business Wire press release that they had been granted Orphan Drug status for their clinical candidate, GBC0905.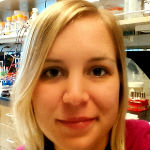 "Our team is grateful for the support we received from Friends of FSH Research, which helped us early on to further characterize and develop our stem cell-derived FSHD muscle model," said lead scientist for the FSHD program, Amanda Rickard. "This platform provides a limitless supply of FSHD-affected muscle cells on which we were able to test many potential therapeutics and eventually select our champion clinical candidate, GBC0905. We are excited to report that the FDA sees enough promise in its potential to help those affected by FSHD that they've granted it Orphan Drug status." Dr. Rickard is also a very active member of our Board, contributing both articles (see Ask the Expert) and technical advise.
Your investment in a cure has played a part in this through a past grant to Genea Biocells (see Investigation of DUX4 activity during development of hESC-derived skeletal muscle and its related final report). So we are quite excited that this has occurred, as it also justifies our investments in the ENMC Meeting to create a more robust patient registry, support of Dr. Tawil's work to increase utility of the Rochester Registry, and support for expanding the FSHD Clinical Trial Research Network.
Besides tax credits for qualified clinical trials costs, their own R&D, R&D grants made to other researchers, and seven years of market exclusivity upon regulatory product approval, Orphan Drug status also waives FDA fees, and provides for protocol assistance. This significantly lowers the hurdles and costs that a pharmaceutical needs to deal with to get a drug through clinical trials and onto market, and thus not only enables access to therapeutics that would not otherwise see the light of day, but also speeds their progress and reduces the eventual costs of those therapeutics for the intended patients (see Drug Discovery Today publication Orphan drug development: an economically viable strategy for biopharma R&D).
One last thing to stress: if you have not already done so, be pro-active in finding a cure and join the University of Rochester Neurology National Registry for DM and FSHD.