Posted by Amanda Rickard on Dec 26, 2016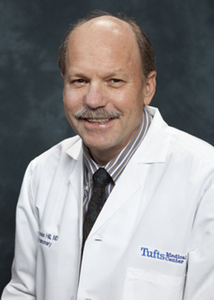 We sat down with Dr. Nicholas S. Hill, Chief of the Pulmonary, Critical Care, and Sleep Division at Tufts University School of Medicine to learn more about his work to improve the lives of his patients affected by FSHD.
What is your specialty and how did you become involved in treating patients with FSHD?
Pulmonary Critical Care Medicine. I became involved because of my interest in the effects of neuromuscular diseases on breathing. I have over 34 years of experience treating such patients (beginning in my fellowship) and have seen the field make enormous advances in that time.
What are the most common respiratory issues found in those affected by FSHD?
Weakening of the breathing, mouth and swallowing muscles. This makes it progressively harder to get air into the lungs, to cough adequately and to protect the airway from things that are supposed to go into the swallowing tube (esophagus).
How do these problems compare/contrast with those found in patients with other muscle diseases?
Neuromuscular diseases differ enormously with regard to the muscles they affect, the rate of progression and even within specific NMDs, there are big differences between individuals. FSH involves the facial and scapular muscles (and humeral – hence FSH).
What are the most important steps that a person with FSHD should take to improve their respiratory health?
Look out for symptoms of shortness of breath, especially if lying supine, daytime fatigue and sleepiness, or morning headaches and report them promptly to your doctor. Maintain your flexibility – eat a good diet and try to maintain a normal range weight. Stay active. Follow up regularly with a physician knowledgeable about MD/FSH and an MDA clinic if one is available. Get vaccines for influenza and pneumococcal pneumonia as per guidelines.
How can attention to respiratory health improve a person's quality of life?
Regular follow up with a physician who evaluates respiratory muscle function on physical exam as well as by testing pulmonary function helps to permit timely intervention with respiratory devices as well as speech and swallowing techniques can keep people healthier.
Can you describe how care for FSHD patients has improved?
The development of non-invasive ventilation to help with breathing mainly during sleep (by using a mask to deliver pressurized air to the lungs), the cough assist to improve cough efficacy, the realization that diaphragm weakness and paralysis occur in FSH so that we detect it earlier are all important advances. These enable patients to function better and survive much longer than years ago.
Thanks very much for your time, and also for your effort to improve the lives of those living with FSHD.
Dr. Hill has been rated a "Top Doctor" by Boston Magazine and was ranked in the top 1% of doctors in his specialty by U.S. News and World Report. Patients in the Boston area can request an appointment by phone at 617-636-6377.