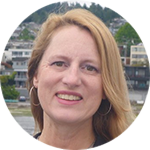 Board Member
With a passion for problem solving, Chris Haven is an experienced software business manager. Chris is currently exploring Artificial Intelligence techniques for assessing patterns for achieving lifestyle goals. She is also extremely interested in how AI will help with earlier diagnosis of FSH. Being recently diagnosed, Chris spent several years in and out of doctor's offices before a positive diagnosis was found.
"After years of wondering what was wrong, I feel fortunate to have a definitive diagnosis. I now know how to work with my limitations and care for myself. Although my progression is unknown, Friends of FSH has funded critical research with new discoveries continuing at an ever-greater pace. I'm thrilled to join an organization with such a strong history."
Chris is married living in Seattle, Washington. She loves spending time with her grandson, playing golf with her husband and volunteering for organizations that focus on locally improving lives for children and families striving to move beyond poverty.